The hospitality and tourism business is evolving around the world, and there is a need for the African tourism sector to stay up with the shifting trends. Some of the new trends that have emerged include ecotourism, cultural tourism, and culinary tourism. These developments have provided one-of-a-kind chances for entrepreneurs and investors to enter niche industries and meet specific customer needs.
In this article, I will walk you through what hospitality and tourism management means and how you can start your own hospitality and management business in Africa.
What is Hospitality and Tourism Management Business?
The hospitality and tourism management business is a diverse and ever-changing industry that provides services in hotels and restaurants. These services are meant to provide warmth, kindness, and friendliness for people, especially visitors. It offers them memorable experiences.
People who work in this industry are often owners or employees in hotels, restaurants, resorts, airlines, cruise lines, theme parks, and other related enterprises. Additionally, people who work as tour guides and travel agencies are part of the industry.
Besides the social interaction with customers, the business also covers the management of facilities.
What Hospitality and Tourism Management Business Looks Like in Africa
Africa is a big continent with abundant natural and cultural attractions, making it a popular tourist destination globally. As a result, tourism in Africa provides significant commercial prospects for entrepreneurs and investors.
The African hospitality and tourism business is diversified from opulent resorts and hotels to low-cost accommodations. These enterprises cater to various travelers, including adventurers, nature lovers, cultural enthusiasts, and business travelers.
Hence, there are enormous prospects for growth and development if you are passionate about the tourism industry. Besides, the industry provides jobs and improves cultural interchange. It is also a sector that helps to alleviate poverty by producing revenue for local communities while encouraging entrepreneurship.
Services Provided by Hospitality and Tourism Management Business
The African tourism business has been gradually developing in recent years, and there is enormous potential for future expansion.
The hospitality and tourism sector:
Provides high-quality reception services for guests
Preserve and expand tourist sites
Manage workers and resources
Market and promote African places of attraction
The  tourism industry focuses on profitability and sustainability. Effective industry management can result in more revenue, a better visitor experience, and long-term viability.
Sectors of Hospitality and Tourism Management Business 
Before venturing into the hospitality business, you should know the specific sector that drives your passion.
Hotels and resorts

Hotels offer lodging, food and beverage services, and other amenities such as swimming pools, spas, and fitness centers to customers traveling for leisure or business.

Nightclubs and bars 

Nightclubs and bars are usually places where people relax after the day's job. Nightclubs and bars offer food, drinks, and entertainment like music, comedy, floor show, and dancing.

Restaurants and catering

The restaurants and catering sector is the most specific sector of the hospitality industry because it deals with the provision of food. For restaurants, food is prepared using an in-house menu and eaten on the spot or delivered to the customers' homes. Conversely, catering means preparing food on a large scale for special occasions such as social gatherings, weddings, concessions, etc.
Spas and wellness

Spas and wellness industry majorly offer body care or treatment, usually done through massage. Some other spas and wellness treatments include waxing, facial treatment, scrubs, body wraps, nail services, etc. These treatments are meant to promotes visitors beauty and relaxation.

Travel and transportation 

The travel and transportation sector encompasses all movement and logistic arrangements, whether by air or land. The service provided by this sector can also include meals and accommodation for visitors.

Events (sports, cultural, private, business, etc.)

An event service involves providing logistic support associated with an event. This support includes event budgeting and scheduling, event site selection, transportation coordination, meal preparation, selection of keynote speakers for the event, event facility management, etc.

Cruise liners and bus tours

Some people like vacationing at sea, and establishing a cruise liner can be profitable, especially when you live where there is plenty of water bodies. However, consider setting up a bus tour instead when you are in a landlocked country. The bus tour should take your vacationers to the important site of attraction.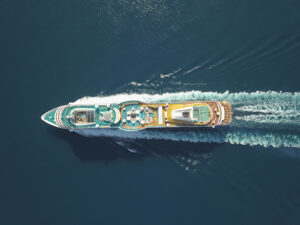 How to Start a Hospitality and Tourism Management Business 
Starting a hospitality and tourism management business can be complicated, but with proper planning and execution, you can create a profitable endeavor in this exciting field. To get started, consider the following steps:
Starting a hotel and tourism management firm can be lucrative but requires careful preparation and execution. Here are some preliminary steps:
Investigate the market

Before launching your business, it is critical to conduct extensive market research. Examine the latest developments, competition, and demand in the hotel and tourism industries.

Create a business plan

Create a detailed business plan after conducting market research. Include your target audience, marketing tactics, financial estimates, and other pertinent information.

Choose a niche/sector

The hospitality and tourism sector includes a variety of niches, and you don't want to be a "jack of all trades." Choose an area where you want to specialize and focus on developing knowledge.

Obtain the relevant licenses

Depending on where you live, you may be required to obtain special licenses and permits to operate a hospitality and tourism business. Consult your local government to ensure that you comply with all regulations.

Get what you need 

What you need for your hospitality business will depend on your chosen sector—however, some materials cuts across different sectors, such as vehicles, accommodation, and food. 

Recruit a qualified team

Building a skilled staff is critical to your company's success. Employ experienced individuals in hospitality management, marketing, and customer service.

Create a marketing strategy

Create an all-encompassing marketing approach to reach your target demographic. Use social media, online advertising, and relationships with local businesses to boost visibility.
Customer service is everything in the hospitality and tourism industry. Ensure that your personnel is well-trained and dedicated to offering an excellent experience for your visitors.
Training your staff is also necessary; this would increase the quality of services and make your business a household name in the industry.
Conclusion
The African hospitality and tourism management business is a substantial sector with significant economic opportunities for entrepreneurs and investors.
However, as an investor, start-up, or entrepreneur, remember that you must provide a service that makes people continuously patronize you to succeed in this line of business.
"Did you enjoy this article? Connect with us through our Twitter handle, or contact us directly on WhatsApp to spotlight your business to the right audience."