The real estate business plays an essential role in the African economy. It provides construction workers, real estate agents, and property managers jobs. Additionally, the buying and selling of real estate generate a significant amount of economic activity, including mortgage lending and property taxes.
Real estate can also be used as an investment, with people trading landed properties to earn a profit through rental income or buying properties to sell them for a profit.
If you've been wondering how to start your own real estate business, I have provided a simple guide in this article.
What is Real Estate?
Real estate refers to landed properties, including buildings or structures and mineral resources permanently attached to the land. It also has the right to use and enjoy the land.
Real estate can be used for various purposes, such as residential, commercial, industrial, agricultural, and recreational.
Residential real estate includes houses, apartments, and condominiums, while commercial real estate includes office buildings, retail stores, and warehouses. Industrial real estate includes factories and manufacturing plants, and agricultural real estate includes farms and ranches.
Real Estate Business in Africa
Real estate business in Africa involves the acquisition, management, development, investment and sale and marketing of assets such as land, structures, buildings e.t.c
It is about building worth and value by recognizing opportunities alongside possibilities in the market.
The African real estate is a multifaceted and fluid industry that requires constant adaptation and innovation to thrive. It presents opportunities for investors and developers since there is high housing and commercial real estate demand, especially in urban areas. 
The African real estate is booming because African governments implement policies to promote and protect real estate investment. The African real estate sector attracts interest from local and international investors seeking to tap into the continent's potential. It has provided a physical space for people to live and work. One of the best types of real estate business is commercial real estate. 
Real estate is a profitable investment opportunity in Africa due to its growing demand, high rental yields, long lease terms, and potential for capital appreciation. 
Real estate in Africa also allows for the potential of capital appreciation, which is the increase in the value of a property over time. As demand for commercial properties increases, so does their value, providing investors the potential to earn significant capital gains.
Read Also: How to Start a Profitable Catering Service Business in Africa
Why You Should Invest in Real Estate
Although, starting a real estate business in Africa requires patience, dedication, and hard work. But it can be lucrative and rewarding with the right strategies and a strong network. Here are reasons why you should start a real estate business in Africa;
1.

Increasing population
Africa has a fast-growing population, which means there is a growing demand for housing in urban and rural areas.
2. Urbanization
Africa's urban population is expected to grow significantly in the coming years, increasing the demand for commercial and residential real estate in urban areas.
3. Natural resources
Africa is home to a wealth of natural resources, including oil, gas, minerals, and timber, which can attract foreign investment and drive economic growth, creating demand for real estate.
4. Infrastructure development
Many African countries are investing in infrastructure development, including roads, airports, and ports, which can increase the value of real estate and create opportunities for new products.
5. Tourism potential
Africa has a diverse range of tourist attractions, including wildlife, historical sites, and cultural festivals, which can create demand for hotels, resorts, and other tourism-related real estate.
6. Affordable land prices
In many parts of Africa, land prices are still relatively low, making it easier for investors to acquire and develop property for commercial or residential use.
7. Favorable regulations
Some African countries have introduced fair rules and tax incentives to encourage foreign investment in real estate, making it more attractive for investors to enter the market.
Read Also: Hospitality and Tourism Management Business in Africa: A Simple Guide on How to Start
Niches in Real Estate Business
Before deciding to venture into real estate, you should understand profitable real estate niches. You don't want to jump into it without knowing where you will optimally function well or the niche that will make you an adequate return on investment.
The following are niches you can consider depending on your passion;
1.

Property leasing
Property leasing is the most common niche in Africa. Most house owners lease to tenants for a monthly return. If you want to make adequate income as a property leaser, you must know where you will find the right tenants for the building you want to lease. 
2.

Land flipping or reselling
Land resellers aim to buy land at a lower price and sell it for a higher amount in the future. The method requires that you know the prevailing land price in a locality and how well it will sell in the future.
3.

Property development
Real estate property developers usually buy a property or land that has been partially built. They repurpose it to the type of building they want, whether a residential house, commercial center, sports center, etc. They may decide to lease this building after completion or sell it as a whole.
4.

Real estate agent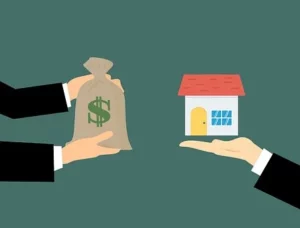 Real estate agents are alternatively called real estate realtors or brokers. They are professionals that serve as middlemen between sellers and buyers of real estate. They earn by charging a commission on every real estate they sell. 
How to Start a Real Estate Business in Africa 
Starting a real estate business in Africa requires careful planning and execution. Here are some steps to consider:
1. Conduct market research
Before starting any business, it's essential to conduct thorough market research to understand the demand for real estate in the region you're interested in. Identify the types of properties in need and the average prices in the area.
2.

Develop a business plan
Based on your market research, develop a detailed business plan that outlines your goals, strategies, budget, and timelines. This marketing plan will serve as a blueprint for your business and help you stay on track.
3. Register your business
Register your real estate with the relevant government authorities and obtain any necessary permits and licenses to operate in your chosen location.
4.

Establish a professional network
Establish relationships with key players in the real estate industry, including property developers, builders, agents, and lawyers. This network will be critical to the success of your business.
5.

Secure financing
Real estate businesses require significant capital investment, and you'll need to secure financing to fund your operations. Consider options such as bank loans, private equity, or crowdfunding.
6.

Acquire properties
Identify properties that meet the demands of your target market through purchase or lease agreements. Ensure all necessary legal requirements are met, including property registration and zoning regulations.
7.

Market your business
Develop a marketing strategy to promote your real estate business to potential clients. Consider advertising through social media, local newspapers, or direct mail.
8.

Build a team
As your business grows, you'll need to build a team of skilled professionals to manage your operations. This team could include property managers, real estate agents, and administrative staff.
Conclusion
Investing in real estate can be lucrative, but you should understand it takes a willing heart. You must be ready to implement the right marketing strategies and know the right audience interested in your property type.
Earning high in the real estate business is not a day's job; you must be fast enough to recognize buying or selling opportunities and patient enough to listen to what your customers want.
"Do you enjoy this article? Follow us on Twitter and Linkedin to get immediate update of recent happenings in the business world. Contact us on WhatsApp to spotlight your business to an African audience."