So you want to start a catering service business but don't know how to go about it? You probably derive joy when someone eats your food and savors every bite.
Whatever the case maybe, you can definitely start up a catering business, whether you love cooking or merely looking for an avenue to raise additional money.
Here, I've compiled a list of steps you can take to start building your very own catering business.
What is a Catering Service Business?
Catering businesses provide food, drinks and even decor services for various types of events ranging from main-course meals for wedding parties to breakfast sandwiches for a business board meeting. Depending on the customer's needs, caterers make food and drinks available, either on-site or they deliver already packed meals to the client's venue.
Catering isn't just limited to cooking and serving, there is a lot more to consider. A full-service caterer, for example, doesn't just provide food. Most caterers are successful event planners because they take care of decorations, set-ups, music, and even offer cleaning services for the whole event. Whereas, other types of caterers focus on providing and serving food to guests, nothing else.
Read Also: How to Bake a Cake: A Step-by-Step Guide
Types of Catering Services
There a lot of different kinds of catering services out there. But here are the main types you need to know as you begin planning your catering business: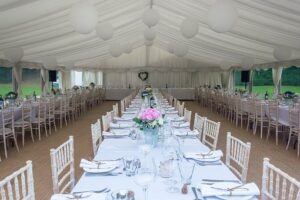 Wedding catering

Weddings are definitely one of the most important events in our lifetime, especially in the African community. This type of catering service mainly aims toward providing quality food for wedding parties. A full-service caterer may be perfect for this type of event, though it isn't compulsory. However, if you're just taking up catering, you might want to start with providing just one type of service before expanding your horizon.

Corporate catering

Corporate catering entails providing catering services to business-oriented events. Such as board meetings, conferences, product launches, office holiday parties and the likes. It is however not limited to one-off events but could also be on a daily basis.

Social event catering

This catering service usually aims at more intimate occasions such as birthday parties, anniversary parties, bridal showers , school holiday parties, get-togethers and much more. Because this type of event is on a smaller scale, menus tend to differ depending on the event.

Concession catering

This catering usually apply to public events and parties, music concerts, sporting events or any occasion where there are large crowds. Caterers in this field aim to make the most out of these events, as they are usually private vendors.
Read Also: How to Start a Real Estate Business in Africa in 2023
How to Start a Profitable Catering Service Business
You might feel a little lost and overwhelmed when you're trying to build your catering business, but don't worry, you're not alone. A lot of catering businesses start off small. However, it is good to have the right advice and tips, so you don't make grave mistakes when you first start out.
So here are 8 steps to start building your catering business:
Research
Research is an essential part when starting anything at all. You need to know exactly what you're getting into. What are the benefits? What skills do you need to master? What can you do to stand out in the catering world? These are some of the questions you can ask yourself when you are about to start your business. You might want to visit other caterers who have gone ahead of you, study the prevailing local market and know where you target audience reside.
Level up your skills
Just like any other business, there are basic skills you need to acquire before starting up your business. If you are confused, you may try working for other businesses and individuals who are already successful in this field for few months.
Some skills you need to know are:
Marketing and financial skills.
Communications and Leadership skills.
Organizational skills.
Excellent customer service.
Food handling, presentation and preservation.
Find your niche
A niche is a particular part of an industry you specializes in. Focusing on one catering niche helps your customers know what kind of services you provide on a consistent basis. Do you like preparing main-course meals, or prefer making delicious pastries for your customers? Remember to choose what you enjoy because you'll be making it a lot, and for a long time too.
Food niches you can specialize in:
Main-course meals
Appetizers and finger foods
Drinks and cocktails
African Native foods
Cakes and pastries
Make a business plan
An African proverb says, 'Strategy is better than strength', it's always better to make a plan  than just 'winging it'. You need to know where you are actually going. You don't necessarily need to have everything figured out at first. But it is always better to have a plan, so you don't feel scattered and lost, especially in the beginning.
Get certified
Every type of business needs some type of license or certification to function without problems. For example in Nigeria (Africa), the institution in charge of registering business names is the Corporate Affairs Commissions (CAC).
Find out what licenses you need in your area, city or country so you don't have trouble later in your business journey.
Create a menu and determine your pricing
By now, you should have leveled up your skills and found out what you really like doing. Write down your favorite dishes and evaluate the costing. It's always better to get advice from already successful catering business owners about pricing. You don't want your customers running away after hearing your prices, and you definitely don't want to undercharge. If you do, you'll get frustrated with never having enough profit.
Get your instruments
You don't necessarily have to go rent a new place when you're just starting. You can always start off from the comfort of your home. But you do need good catering equipment, even from the beginning. Depending on the type of food or catering service you'll be offering, you'll be able to determine what equipment you'll need to get. Electric mixers and ovens for cakes and pastries, or bigger pots and gas cookers for main-course meals.
Advertise and market your business
You definitely want to create some type of awareness for yourself, but you will need to have a portfolio of your work to show. Not everyone has the ability to get a website just at the beginning. But you can always start with social media. Share your work online, educate others and build a social media following. A broad genuine audience makes you credible and in the long run, you could even monetize your account!
Conclusion
Catering service business is easy if you are patient and passionate about making money. Trust the process, trust yourself and you'll definitely grow.
Persevere and enjoy the journey. You might make mistakes from time to time, but always remember that real failure comes only when you never at all. So get to work!
"Do you enjoy this article? Follow us on Twitter and Linkedin to get immediate update of recent happenings in the business world. Contact us on WhatsApp to spotlight your business to an African audience."