Gift cards have been a great resource for firms, businesses, and individuals. They are widely used for special occasions like birthdays, housewarmings, weddings, graduations, etc. In addition to the fact that gift cards allow personalization, they also present the recipients with the choice to get anything they like.
You got any gift cards you will like to exchange for cash? This article will provide the best information about the best app to sell gift cards in Nigeria.
What You Need to Know About Gift Cards
Difference between the two types of gift cards
There are two main types of gift cards; open-loop and closed-loop gift cards. Visa, MasterCard, and American Express gift cards are typical examples of open-loop gift cards. Just like common credit cards, they are accepted to make payments. On the other hand, closed-loop gift cards are issued by retail brands, restaurants, or any firm. A good example is the Starbucks gift card that can only be redeemed at Starbucks.
Exchange of gift card for cash
In case, you have a remaining balance on your gift card that can't cover the expense of an item, you can exchange it for cash. There are different rules guiding this across states. For individuals based in Nigeria, it is legal to exchange gift cards for cash irrespective of the gift card's monetary value.
Certain gift cards expire
Some gift card brands do have expiry dates. However, they are always written in the gift card package. Some gift card brands charge an inactivity fee.
How to Maximize Your Gift Cards?
Gift cards don't have to be used all at once.

Use coupons and discount codes with gift cards.

If you have no use for it, give it out as a gift to your friends.

Alternatively, sell the gift card for some cool cash
Best App To Sell Gift Cards In Nigeria
Choosing to sell your gift card for cash isn't enough, you need to exchange it on the right app. This will help you stay guarded against online scammers and keep your information safe. 
Nosh is a mobile gift card trading app committed to providing a seamless process for gift card traders. Users who have entrusted themselves to Nosh's service are over 500, 000.
Sell all kinds of gift cards on the Nosh app including Apple gift cards, Google Play gift cards, Steam gift cards, and others
Why Nosh is the Best Choice?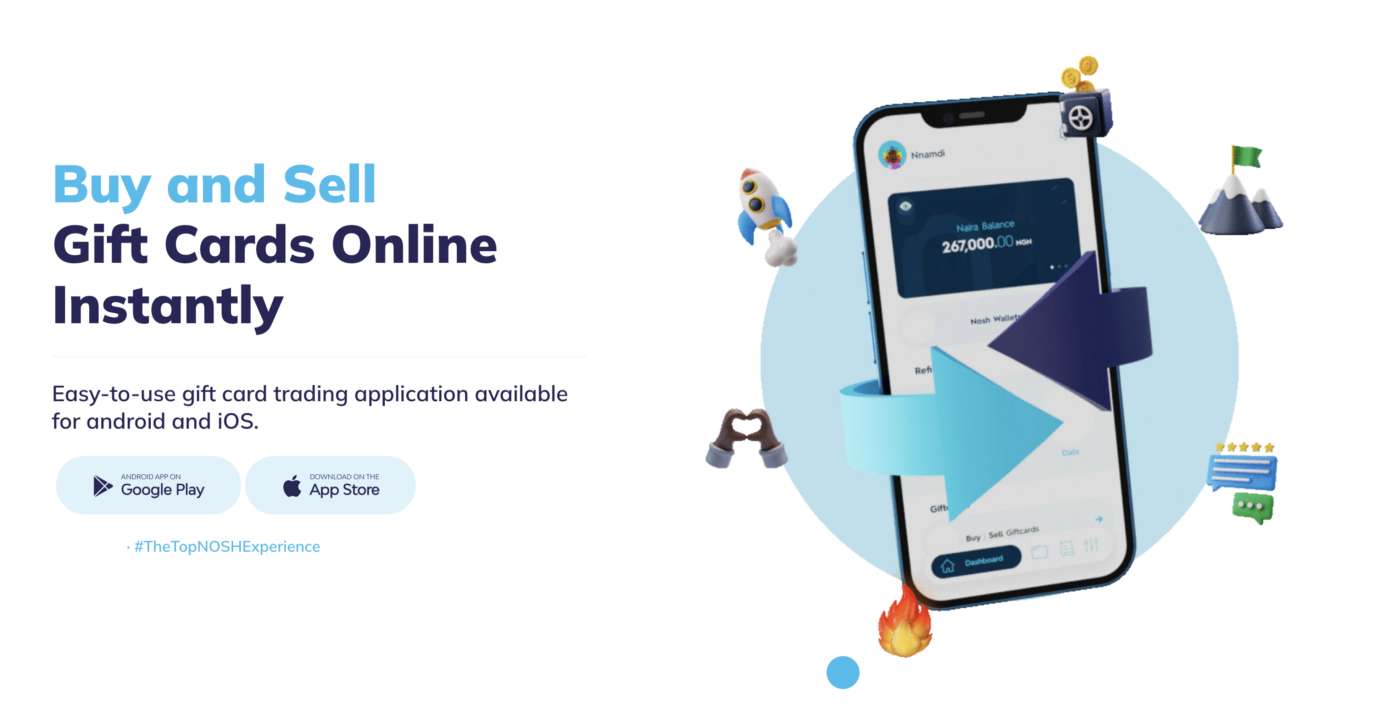 Different kinds of gift cards up to 300+ can be exchanged for naira on the Nosh app within 5 minutes and the user's account will be credited almost immediately. No one wants to unnecessarily spend minutes or hours on an app to get things done. Nosh understands this quite well and makes the process easy as possible. Customers can withdraw their wallet credit anytime they need it.
Among the gift card trading apps on the internet, Nosh offers the best rates. This has attracted so many customers. You can click on "Hottest Cards" on the mobile app. All cards with the highest rates will be displayed in order with their respective current rate.
Since the launch of the Nosh app, they have ensured building trust and reliability among customers. The security on the app is high-end which makes them one of the best out there today. Your personal information and card details are safe.
The customer support team is always readily available to tend to your needs and questions. If you have any questions, don't hesitate to reach out.
Core Features Of the NOSH App
There are awesome features attached to the Nosh app. Check some of them below:
Prompt Notification: There are regular push notifications on the app to keep you updated about in-app transactions.
Nosh Gift Codes: There are unique codes shared with special users as you trade your gift cards. 
User Levels: The Nosh app contains 5 levels that define how much you have traded on the app. As you climb up the level, there are rewards you get access to.

Pin & Biometrics: Nosh offers convenient and fast security inspections.

Buy Airtime & Data: Nosh is not just about gift card trading. Purchase of airtime, data, and bills payment can be done in a few minutes on the app. 
Live Chat: To ensure optimum users support, there is a live chat integrated into the app for your use.
Why NOSH Provides The Highest Gift Card Rates In Nigeria?
You may be curious about the current gift card rates in Nigeria. The amount you get in exchange for a gift card relies on several variables. It is important to know the current rate at any time and the gift card with the highest return. The best gift cards with their respective rates is always available on the app.
Currently, a $100 UK Steam gift card on the Nosh app is 71, 500 naira, and a $100 American Express gift card is available for 59, 000 naira. The market rate, the season, the kind of gift card, whether it is physical or electronic, and the country of the gift card are just a few of the factors that determine how gift cards can be sold in Nigeria i.e. the rates.
However, the gift card rate calculator on the Nosh app can always keep you up to date.
How to Sell Gift Cards on the Nosh App?
Go to Google Playstore or Appstore to download the app by simply searching "nosh".

Register an account with your details. You will immediately have access to a dashboard.

Select the gift card by swiping or via the drop-down list. For example, Apple gift cards.

Next, choose the subcategory which implies whether it is UK, USA, EUR, or E-code.

Specify the currency you want to trade for.

Enter the gift card's monetary value. Your expected payment will be displayed.

Upload the gift card image or type in the E-code.

Hit "Sell"
Conclusion
The main goal of Nosh is to make trading easy for gift card owners. You can send them questions, suggestions, or feedback anytime. Reach them at [email protected] or contact +2348125349466.