The beauty industry in Africa is already booming, with a whopping $ 912 million projected revenue in 2023. If you are passionate about making people look their best, the make-up business may be an avenue for you to make money.
Getting started is difficult, but you are one way closer to achieving your dreams if you follow the hints highlighted in this article.
Make-Up Meaning?
Make-up is a set of cosmetic products used to change a person's facial appearance. This change could enhance beauty or alter it to achieve the desired effect.
Although, make-up is not easy for beginners but you will get along as you practice. However, unlike in the past, where make-up was used for beauty and identification, it now has numerous functions. For example, it can be used to achieve work-of-art effects in movies and can boost people's confidence.
Types of Make-Up
There are different types of make-up, each of which has peculiar functions. The common types include;
1. Nude Make-up
Nude make-up is one of the most common types. It is called "nude" because it is made to look as if you are not on make-up. The idea is to touch up your beauty.
2. Matte Make-up
As an aspiring make-up artist, one of the things you should learn is that make-up products are not just applied to any skin. Different skin types have their peculiar make-up product and style. Matte make-up is mainly for people with oily skin. It helps prevent the oils produced by the skin from affecting your facial appearance. The advantage is that it is long-lasting.
3. Monochromatic Make-up
Monochromatic make-up deals with using one type of color on your customer's face. However, you can use different shades of that color; this is usually to give a balanced yet elegant look. Colors that achieve this subtly elegant effect the most are red, brown, black, and pink.
Read Also: How to Start a Profitable Catering Service Business in Africa
Starting a Make-Up Business in Africa
Although the African make-up business is now saturated, you can flourish with the right information and skill. To become skilled, you must learn and practice. The right information will help you to know how to operate your business and set the right prices for your services.
Here are simple steps to start your make-up business;
Define Your Goals
You must write down your goals to stay consistent with your business dream. Here is a list of questions to guide you:
What do I want to achieve?
Where do I see myself in the next eight months?
What is my mission and vision?
Who are my target audiences?
What type of make-up artist do I want to be?
Answering these questions will help you clarify the next line of action.
Conduct a Market Survey
Observe, research, and ask questions. First, you should know what customers expect from you. But more importantly, check out what your competitors are doing and offer something different.
Create a Business Plan 
A business plan determines your brand's growth. Your business plan should contain your goals and how you intend to achieve them. It should contain your mission, vision, brand purpose, budget, and achievable milestones. The advantage of this is that it guides you on the next step.
Read Also: How to Start a Real Estate Business in Africa in 2023
Source for Funds
Sourcing for funds is more applicable if you need more capital to start. For example, you could present your business plan to friends and family members that can contribute to your dream. Then, try crowdfunding or angel investors.
Get the Basic Materials 
Although there are lots of materials you would need to have, here are three basic items you should get:
Kit: This box contains essential tools you would need. Although they vary in price, get the very affordable one. It contains tools such as brushes, primer, contour palettes, powder, skin-prepping products, concealer, foundation, setting products, etc.
A mirror for your customer to see the process and the final results.
A stool for your customers to sit on.
Make-up items like ring highlighter, setting spray, lights, tripods, quality cameras, and bigger kits can be bought later.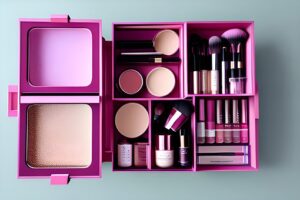 Build Your Portfolio 
Getting your dream customer is easier when you have a portfolio. One way to go about this is by having an available face model that you can use to create stunning looks.
Take it a step higher by collaborating with a photographer and a hairstylist. You would be mentioned as the make-up artist when these two share their works. By leveraging their audience, you are creating awareness for your brand, and in the end, you would attract the right audience.
Read Also: Hospitality and Tourism Management Business in Africa: A Simple Guide on How to Start
Open a Social Media Account 
Opening a social media account will give your business the visibility it deserves. But you will need to decide on what social media platforms you want to use Facebook, TikTok, Instagram, and WhatsApp are examples of social media platforms common to African audiences. Please choose the one you know and can easily navigate its interface.
Sharing your work on these platforms makes you a step closer to your dream customer. Besides, social media helps you record your business growth process. Additionally, you can run advertisements on your social media accounts and use brand influencers within your area to promote your business.
Conclusion 
Running a make-up business in Africa is a good investment, but it requires a lot of patience, consistency, and decision-making.
Besides, it would be best not to fret because make-up materials are readily available. Who knows? Your business can become a major beauty brand in the future.
"Did you enjoy this article? Connect with us through our Twitter handle, or contact us directly on WhatsApp to spotlight your business to the right audience."